Indigenous Ecards
Great Ecards with an Indigenous Flair !!
This page offers great Native sites, some of which have more than one source of interest.
Browse and have a great time !!!!
Native Ecards & Culture
Cherokee.org is a very interesing and informative site.
For ecards, scroll down to the bottom of the homepage .... you may have to register on the site first, but after that you're free to browse and enjoy.
So ..... ENJOY !!!!
Native Americans @ Buffalo Trails - A Native American Owned Company
~ Delivering the best of Native America to people around the globe since 1998 ~

Inuit & Northwest Coast Native American Ecards ....
You must look at this !!!!.
Great selection .... very cool pix !!
Gotta see this one !!!!
Native American Day Ecards !!!!
Awareness & Activism
Native American Ecards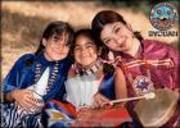 Native Ecards
Native cards & everyday cards.
Nice assortment ..... great pictures !!!
Great Ecards .... you've got to look at these !!!!
Great Pix ... Cool Cards !!!